η ελληνική Ομάδα Διαχείρισης Κρίσεων.
Η Ομάδα Διαχειρίσης Κρίσεων είναι μια Μ.Κ.Ο που ιδρύθηκε και λειτουργεί από το 2008. Συνδέεται με το OCHA (Office for the Coordination of Humanitarian Affairs) και ενημερώνεται για τις παγκόσμιες καταστροφές από το GDACS ( Global Disaster Alert and Coordination System). O σκοπός της Ο.ΔΙ.Κ. είναι η ανιδιοτελής προσφορά βοήθειας για τη πρόληψη, την αντιμετώπιση και την αποκατάσταση από μαζικές καταστροφές όπως σεισμοί, εκτεταμένες πλημμύρες και θεομηνίες, πυρκαγιές κ.α.
Επίσης ενεργεί στην Έρευνα & Διάσωση (SAR) ατόμων από αεροπορικά, ορειβατικά, ναυτικά και άλλα εν γένει ατύχηματα, καθώς και τη παροχή ή διαχείριση ανθρωπιστικής βοήθειας εντός και εκτός Ελληνικών Συνόρων. Η ομάδα τους δίνει ιδιαίτερη βαρύτητα στην οργάνωση και την εκπαίδευση των πολιτών ώστε να είναι έτοιμοι να αντιμετωπίσουν καταστάσεις Κρίσεων και να βρίσκονται σε θέση να προστατέυσουν τη ζωή των συνανθρώπων του στις καθημερινές τους δραστηριότητες.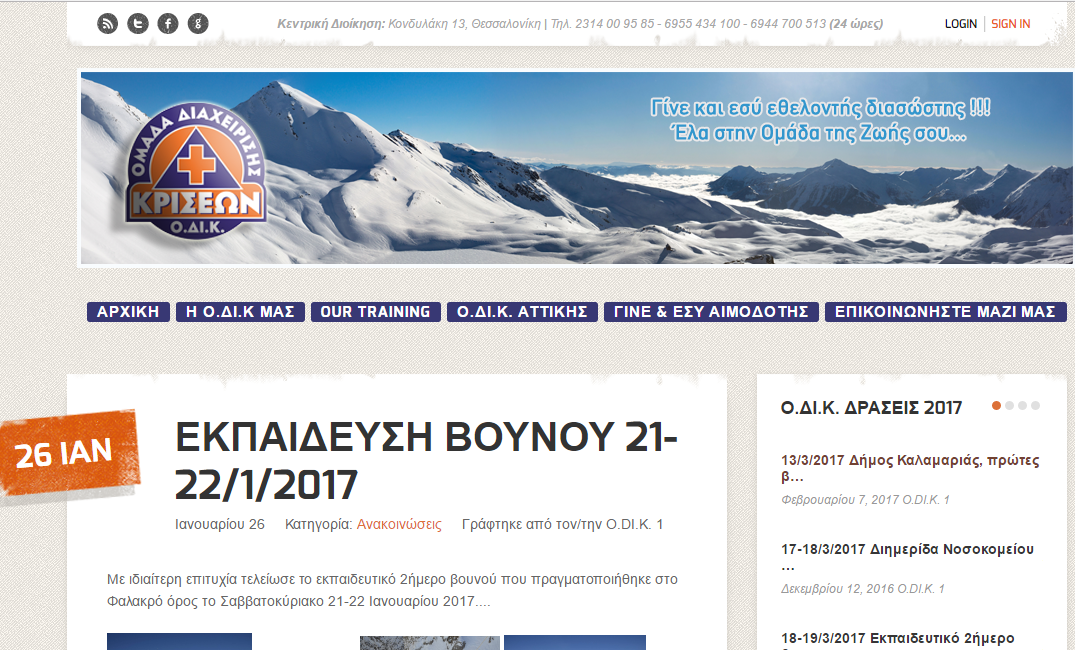 Ιστοσελίδα: http://www.odik.gr/el/